Rutherford — Teaneck Marathon Row

The 2013 Marathon will take place on
Monday, July 1, 2013

(Rain Date: Tuesday, July 2, 2013)

Teaneck & Leonia High Schools'
Crew Teams

will set out for their Sixth Annual Marathon Row:
We will row 29 miles (or 46.7 km)
from Rutherford to Teaneck.We ask you to support our effort
with a generous gift to benefit the Overpeck Community Rowing Association 
(90%)
and a
Charity yet to be determined
(10%).
Teams from other Clubs/Schools are welcome to participate:

Every participants is expected to raise $50

Please register with Clemens Reinke

While we are grateful to the 
Teaneck Board of Education
, the late Superintendent John Czeterko, and Athletic Director, Ron VanSaders for making Crew a Varstity Sport beginning with the 2008 Spring Season and supporting the operating budget of the Crew Team, we are just as grateful to the 
Overpeck Community Rowing Association
 (OCRA) for providing, maintaining, and expanding the equipment needed such as the boats, oars, coaching launches, and much more.

OCRA is an affiliate of Teaneck Rowing Club, which is a 501(c)3 Charitable Organization.
Your gitfs are 100% tax deductible.
Please make checks payable to "
Overpeck Community Rowing Association
"
You can give your check to the rower you are supporting, or you may mail it to 1200 River Road, Teaneck, NJ 07666.
The Itinerary:

We will set out from the Nereid Boat Club on the Passaic River in Rutherford at 8:00 AM

We will row past Lyndhurst, Nutley, North Arlington, Belleville, Kearny, Newark, Harrison, to the end of the Passaic River.

We will row around the Kearny Point, and into the Hackensack River, past Jersey City, to Secaucus. 

In Secaucus we will take an hour lunch break.


We will then continue past Little Ferry, North Bergen, Ridgefield Park, Hackensack, Bogota.

We will end our row around 3:00 PM in Teaneck at the Andreas Park Tennis Court.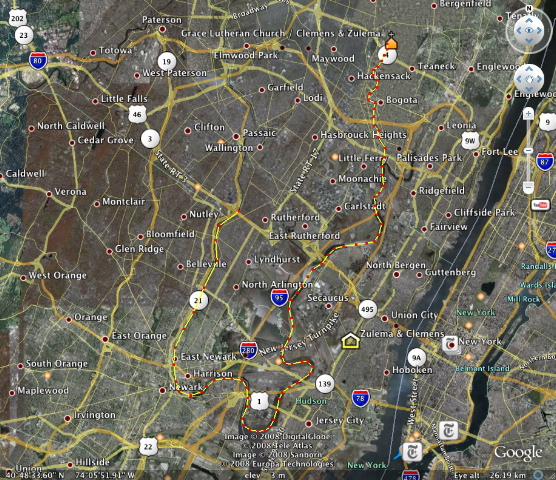 Please feel free to print our brochure. Please click here:

IN 2011:

We did it! We completed our MARATHON ROW on June 25, 2011. FUNDRAISING TALLY as of July 28:   $924.86

THANK YOU ALL!